We're talking about the VTNE!
Are you thinking about a career as a Veterinary Technician? Are you currently enrolled in a Veterinary Technology program? If you answered yes to either of those questions this article is for you!!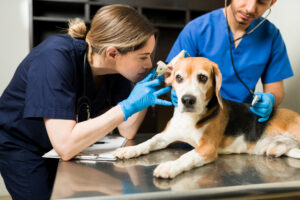 The Veterinary Technician National Exam (VTNE) is a standardized examination designed to test the knowledge of aspiring; depending on where you live in the country RVT/LVT/CVT. The VTNE is a 3-hour exam that consists of 150 multiple choice questions with 20 pilot questions sprinkled in for constructing future examinations, those 20 questions do not count towards the final score. Like other standardized tests, your performance on the VTNE is based on your scaled score, not your raw score. The scaled score is a number between 200 and 800 with a passing score being 425+. The test consists of 9 domains: Pharmacy and Pharmacology, Surgical Nursing, Dentistry, Laboratory Procedures, Animal Care and Nursing, Diagnostic Imaging, Anesthesia, Emergency Medicine/Critical Care, and Pain Management.
You can take the Veterinary Technician National Exam during a testing window, the American Association of Veterinary State Boards (AAVSB) opens 3 windows a year. Mar 15th thru April 15th, July 15th thru August 15th, and November 15ththru December 15th. There is also a 3-month long Application window closing 1 month before each testing window.
There are two options to qualify to sit for the VTNE. Graduate from an AVMA-CVTEA program. Which is typically an associates program titled Veterinary Technology. Then there is also the Alternate Pathway which is offered in three specific states. California – requires 300 hours of education and 4416 hours of practical experience in no less than 2 years. Wisconsin – minimum of 2 years experience with at least 50% of the applicant's time spent in practical field experience and the remainder of the applicant's time spent in laboratory work, office procedure, and technical veterinary training with a licensed veterinarian. Alaska – Completion of at least two years of on-the-job veterinary technician training under the supervision of a licensed veterinarian within the immediate three years before an application. At least one of the two years must be within the State of Alaska. Minimum of 700 hours of experience per year.
Initial Application with the AAVSB typically takes two to three weeks to process.
Studying for the exam? Visit us at FIDO